Re-opening Night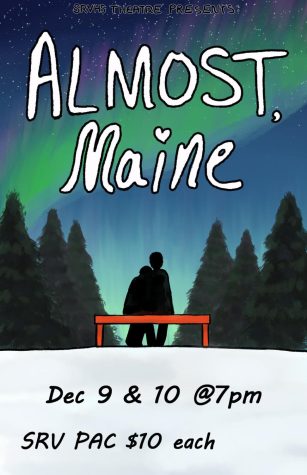 Throughout the last 22 months, COVID has stayed in the limelight. But after the months-long struggle to reclaim the stage, at long last performers are taking their bows.
 San Ramon Valley's Almost, Maine broke down barriers to bring you what you've been missing since the dawn of the pandemic. "It was so good to see a show after covid I hadn't realized how much I had missed live shows and entertainment. The whole feel of it was great and it was an amazing play" exclaimed a member of the audience on Thursday night.
 As the curtain rose and the stage lit up it was quiet. Anticipation was in the air. The audience was sizeable. The stage was still. And the excitement was impending. Actors who hadn't had the opportunity to act in over a year we're finally able to be back on stage. "It was a nerve-racking experience we didn't know what to expect it had been such a long time." Stated one performer.  
The show was placed in the small ¨almost¨ town of Almost, Maine. The cast all playing friends in this tiny town bonded with a sense of community that was portrayed in their acting and backstage friendships. ¨It was so great to be a part of, everyone was so welcoming. We all really encouraged each other¨ Another actor said. As this was most of the cast members' first performances since the rise of the pandemic they were all able to relate and hearten each other. Making the show that much more realistic and pivotal.
The show was made up of 9 different short plays each exploring different and important aspects of love and heartbreak. The play was relevant and understandable to the audience as many of them were high school students beginning their own journeys through love and everything that follows. The director Kyle Nash also commented on this stating that "Its heartfelt look at love really allows the audience to relate to the characters¨.
 An audience member recalled saying ¨I cried at one of the scenes because it really reminded me of something that had happened¨. The acting was natural and portrayed real emotions and situations the audience could empathize with.
Post isolation the world is still evolving and adapting but it's good to know that not everything has changed, the theater is still here for everyone who needs it, to provide gaiety and entertainment to the audience and the performers. 
Almost, Maine is just the first of many to integrate COVID19 policies while putting on an unforgettable full-length show in person for all to enjoy. Though COVID is still thriving in our world today with the proper precautions we can still enjoy many of the things we used to. There may not be full houses for a while but this is just the first step toward a more normal tomorrow. Stay safe, and break a leg!