Still Into Paramore?
As my mom and I pulled out of the garage on a recent Fall Friday night and our satellite car radio connects, the first song we heard was by Paramore. Ironically, this was the very band that we were on our way to see and this was to be my very first live concert experience. I knew it would be a perfect night!  Paramore is an American Pop/Punk three member group consisting of lead vocalist Hayley Williams, bassist Jeremy Davis and guitarist Taylor York, in case you were not aware.  The band has definitely had their share of highs and lows since they first started out in 2004. Most notably the exit of two original band members; however in my opinion they are riding high right now with a new album and a "Self Titled Tour"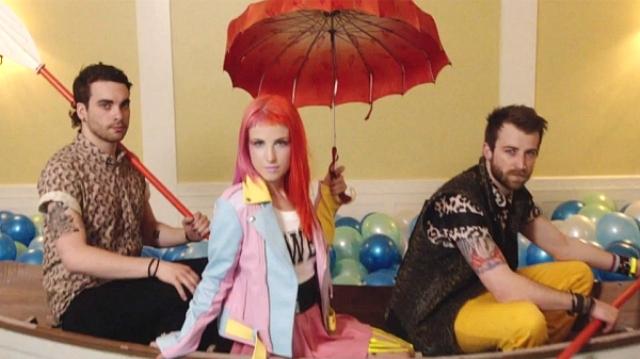 As our party of four made our way towards the fans already lined up to get in to the concert, there was a huge sense of excitement and anticipation in the air. Although these were people that I didn't know, I felt an instant connection as we shared a common interest. Several people in line were wearing Paramore t-shirts, many just like the one I was wearing. Others wore hats covered in tour buttons and some even had shades of pink and green hair color. (A nod to the style of lead singer Hayley Williams).  It is amazing how the concert experience can convert perfect strangers into friendly acquaintances. Entering the lobby, out of the corner of my eye, I spotted MUST HAVE Paramore tour merchandise for sale. I dragged my Mother and friends Alex and Jisoo over, while in my mind, screaming like a giddy sixteen year old girl.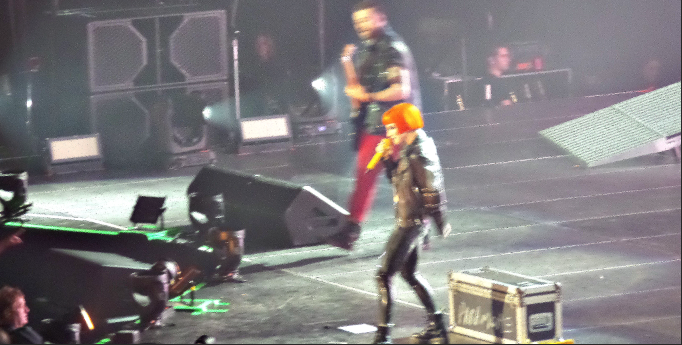 Then, we headed to our premium seats to take in the first two opening bands. While both were respectable enough, it was obvious that the momentum was building for the band we had all saved up to see. A huge black curtain that had been hiding most of the stage, was suddenly dropped and transformed the stage into a massive area with extravagant lighting everywhere. Lead singer Haley Williams emerged with her signature red hair and black leather from head to toe and stood with her band on a platform backlit in neon. The opening song, "Grow Up" had the crowd wild and enthusiastically singing along. I was in a daze, my iTunes account is filled with Paramore songs and I could hardly believe that I was finally seeing and listening live to the artist I have grown to love.  Needless to say, as the concert went on, it just kept getting better.  A definite highlight was when Haley took a moment to speak to the crowd already hanging on her every word. The Band had been through some hard times and made a point to encourage the audience to never give up.  In her words, "there is always a light, a little fingerprint of hope, and you have to find it". "It is worth the struggle, worth the pain, worth letting go…because the thing that is coming on the other side might just be better."
Among the artists that teens follow these days, it is hard to find one with such a positive and motivating message. After years of thinking about when I would have a chance to attend my first live concert, I can honestly say that this couldn't have been better.  It was surely worth the 15 year wait.  I walked out of that concert with something that I lacked before, confidence in accomplishing my dreams no matter what. Hayley Williams proves that being a bad influence on your fans is not the only way to rise to fame in the music industry (unlike Miley Cyrus).  In this new album, Hayley sings about uplifting topics that empower others, reminds you that you can get through anything in life, and how important it is to never give up on believing.  I strongly believe their lyrics are relatable for my generation, a little bit too much in fact, but they provide lessons we can all learn. The final song of the night was their most popular, "Still into you," and to be honest, I am still into Paramore, and I think I will be for many, many more years to come.
Check out their most recent album on Spotify.com or Grooveshark.com