Competition in Youth Sports still restricted in California? Let us Play!
California is still holding many restrictions against youth sports. 
It's clear that over the past months, changes and restrictions have been added to all of our regular routines, because of the current pandemic. As activities start to open up again, California is still very skeptical about cutting back on many limitations. Team sports, one of the most important activities for both physical and mental well being, are still not allowed to compete and regularly play. Are these stringent restrictions fair to the California athletes?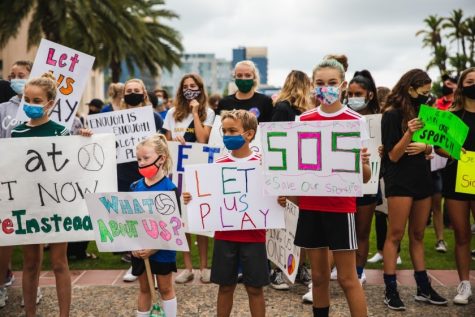 According to The San Diego Union, many athletes, coaches, and parents have been recently protesting against the health laws that prevent any competitive games. People demand Gavin Newsom to lift the health rules and allow athletes to start playing again, just like the majority of the nation. Athletes in California have been able to run drills and practices, but when will they get the green light to play? 
"They need the camaraderie," said Tanya Ruiz-Davila, who was at the San Diego event. "We can't live in fear. The virus is everywhere." 
Since they're still not allowed to compete in California, a growing number of teams have begun to travel outside of the state. According to CBS13, although the state health rules are held to prevent COVID-19 exposure, many believe that there is a greater coronavirus risk from out of state travel, then from local competition. "They certainly face a higher risk of having to travel and play," Dr. Norris pointed out. 
Many county officials say that traveling to other states for sports raises COVID risks. "Getting to and from tournaments is where I'm concerned. I wish the state of California would lift its ban on sports," Champlin said. "As these teams are starting to travel outside of California, and as schools are starting to reopen, once they return, they could infect other kids in the school." 
Attempts were unsuccessful to reach Gavin Newson's office. As of August, the California Department of Public Health stated that "Youth athletes can exercise as long as they are at least 6 feet apart," meaning just about every sport isn't permitted to play.
People against this health order argue that outdoor playgrounds are open, so the government's restrictions on youth sports are contradictory. Already, the regulations against participating in youth sports have had  mental and physical impacts on youth players everywhere. In addition, sports clubs and organizations are facing economic issues. They believe that allowing sports competition to start again will not lead to massive risks of the virus. 
There is a lot of evidence that claims we should be able to play. On the other hand, we are still facing a world pandemic, therefore it is important to be smart when it comes to opening up sports competitions again so that all players, coaches, parents, and officials stay safe while enjoying the game. According to a study from the University of Wisconsin which surveyed 90,000 players from 34 states, there was a much lower rate of the coronavirus than in the overall population. The study also found that all the surveyed clubs reported having a safety plan reducing the risk of COVID-19 through many procedures. "We don't want to just throw kids out there," said Bob Turner, executive director of the Presidio Soccer League. "It will be a controlled situation." 
In addition to the impacts on younger athletes, there is a huge concern for teenage athletes who could miss out on college scholarships due to the lack of exposure to scouts and competing time. Shannon Cafagna, from Poway, California, says that she is worried that players from states outside of California may have advantages
Abbey Colton, who is 17, attending La Costa Canyon High School, believes that she will have no chance of attending her senior prom or competing during her last year of varsity soccer. "California and its laws are stripping away from me things that I will probably remember for the rest of my life," she said.
I am a passionate athlete. I have played both soccer on an ECNL team and basketball on AAU teams competitively, for many years. During this recent time, it took a lot of motivation to stay on top of my game and I have always wondered how hard it must have been for other athletes. Currently, my teams have been playing with many restrictions. It has been frustrating to see so many people out of state starting to play, when we can barely scrimmage with our own team. In these upcoming weeks, my team will travel out of the state to compete in showcases in Reno, Phoenix, and Texas. In these states, we will be playing against other teams for the first time in months. It will definitely take time to readjust, but I hope that we will begin to start playing locally sooner than later, so that we don't have to travel many hours just to compete in one game.
Rules should be changed and restrictions should be lifted, so that California athletes can start competing again. "LET US PLAY!"