Choir Returns to SRV Campus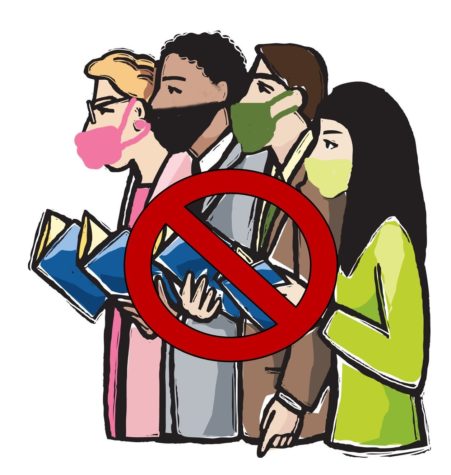 Approximately 52 Fridays ago, we entered quarantine in Danville in order to prevent the spread of the coronavirus. We continued with school remotely up until summer, largely in an asynchronous fashion, and then in the fall students and teachers began to follow a schedule for school hours. With the vaccines being given out slowly and Contra Costa County entering the red zone and leaving the purple zone, we've entered a hybrid phase where some students go to school in-person some days of the week and remain remote other days, and some students learn entirely remotely. How will each class handle it?
Choir and the performing arts are different from most classes in the course material and method of teaching, as well as the style of the class itself. Performing classes will have to adapt slightly differently than other classes.
Choir in remote learning at SRV has involved many online programs, such as MusicFirst, Sight Reading Factory, and Soundtrap. A lot more focus on working on skills other than performance has been present throughout the school year, such as sight reading, key signatures, emotion, and solfège (the do-re-mi scale and the accompanying hand signs). 
The focus on technical skill as compared to performances is due to the fact that it is more difficult to correct performance technique over the computer compared to in person: choir students don't often unmute and sing all at once, rather unmuting just when performing an exercise or testing something.
Michael DiGiacinto, the choir teacher at San Ramon Valley High School, commented that even within classes, though, the focus on performance versus skill differs: as one ascends levels, there is more and more focus on the performance aspect since students are expected to be at a higher level skill wise.
It's Mr. DiGiacinto's first year teaching at San Ramon Valley. When asked about what this year has been like, he said, "It's been an adventure. It's put a lot on us as teachers and us as students as we approach what choir even means in this situation.
"Choir used to be in a room together and about making music, but we've found workarounds and made choir a vibrant part of the day and we work on music together. It's also a challenge. Everything seems to take 15-20% longer: planning, rehearsing, trying to manage on the fly, managing the pacing."
When asked about the schedule about 
With school now resuming with a hybrid model, the class has changed somewhat. In the past week, the Women's Ensemble class has focused quite a bit on repertoire. We've spent time working on sight-singing and gathering feedback about the hybrid model during our half-days.
Singing with masks on is understandably difficult: getting enough breath in and breathing properly is made difficult by the mask. However, there are special singing masks which have more space and make it easier to sing and breathe. Choir students who have returned to SRV are using these masks in choir.