Breaking Glass Ceilings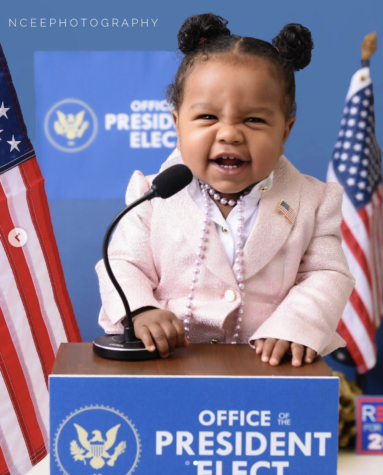 On January 20th in Washington D.C, as Kamala Harris became the first woman and first woman of color Vice President, children across the country saw new possibilities.
"Brown girls no longer just dreaming." TV producer Shonda Rhimes captioned a photo of her daughters watching the Inauguration. During Inauguration Day, photos of children celebrating Harris's achievement flooded social media. Not only children, but Hilary Clinton, former Presidential Candidate, also chimed in with her thoughts.
"It delights me to think that what feels historical and amazing to us today – a woman sworn in to the vice presidency – will seem normal, obvious, 'of course' to Kamala's grand-nieces as they grow up," posted Hilary Clinton, along with a photo of Kamala with her niece's daughters. 
Hilary Clinton's words already are becoming true, by the many young girls watching Kamala take office. ABC News explains how they will grow up remembering  this moment, a woman of color taking office, and believe it to be normal. 
"Representation matters," says Kendell Maloney. Maloney is trying to spread this message to all kids, including her 1 year old daughter, Regan. Regan's family explained to her the significance of this moment as they watched the Inauguration.
"You see Kamala Harris. We can be anything that we want," Regan's mom told her. Maloney set up a photoshoot with Regan in a power suit and pearls, standing with American flags and a  presidential lectern, shown in an Instagram post.                                        
"As a woman and as a young Black woman, she can be anything she puts her mind to," Maloney told ABC News.
Young girls were definitely impacted by Kamala Harris's achievements, along with female SRV High School students that were asked if they were also impacted by Harris's achievements.
"She is now the first woman vice president and will help advocate for women for the next four years," one sophomore student replied. 
Another student had a similar response, "I feel inspired and empowered by Kamala being the first female Vice President." 
When students were asked if they think Harris's representation will influence how children grow up viewing women's roles in the office, their answers went along the same lines.
"Yes, now children, especially young girls, have a Vice President woman to look up to," one student said.
Another student asked this same question expressed how she believes this will affect children. 
"I think it will heavily affect children growing up knowing that women can get there in the office," she replied.
Born in Oakland, California, Kamala Harris is the daughter of immigrants and was raised by a single parent. Harris became the first woman, and African American to be California's Attorney General, spending her life breaking glass ceilings. While later working in the Senate, Harris proved she is capable of having a larger role of leadership for our country.
"While I may be the first woman in this office, I won't be the last. Because every little girl watching tonight sees that this is a country of possibilities," Harris says.